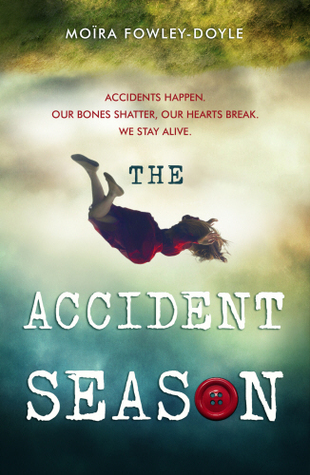 Title – The Accident Season By Moria Fowley-Doyle
Publisher and Date – Corgi's Childrens August 2015
Total Number of Pages – 280
Summary from goodreads
It's the accident season, the same time every year. Bones break, skin tears, bruises bloom.

The accident season has been part of seventeen-year-old Cara's life for as long as she can remember. Towards the end of October, foreshadowed by the deaths of many relatives before them, Cara's family becomes inexplicably accident-prone. They banish knives to locked drawers, cover sharp table edges with padding, switch off electrical items – but injuries follow wherever they go, and the accident season becomes an ever-growing obsession and fear.
But why are they so cursed? And how can they break free?
My Review – (has tiny spoilers included)
5 out of 5 Stars
This story really surprised me, I picked it up in the library and didn't know much about it except I had seen it a few times on booktube an bookstagram. When I got home I checked the reviews on goodreads and found that they were quite mixed so wasn't exactly sure if I would love or hate this story. Fortunately I loved it, it was quite captivating and I read in over two days. I loved the whole premise of this story and I was compelled to find out more.
Cara is seventeen and lives with her Mum, sister Alice and her Ex-Stepbrother Sam(who I loved) and every year during the month of October accident season happens. During this time the family have various accidents that don't usually happen at other times of the year, they are unexplained but each family member goes through the same thing each year, the worst accident seasons always result in death. Cara is looking at pictures she has taken and she finds that a friend Elise who he disconnected with keeps showing up in her photos whether it be her hair, an arm or a leg. So Cara tries to find out what is going on but Elise has disappeared and no one seems to remember who Elise is, not the teachers or the pupils at her school. Cara is not only trying to find out about Elise, she is also trying to fight the feelings she has been having about Sam. He is her Ex-Stepbrother but he still lives with them so she keeps telling herself that it is wrong to feel this way. things happens during the story which I don't want to go into too much detail so I don't spoil the story for you. You also get to find out about Elise which I kind of knew was happening but it had a whole different take to it and wasn't as simple as I thought.
Overall this was a great captivating story with a lot of drama and also has some twists and turns along the way. I am really glad I decided to pick this story up because it helped me get out of my reading slump and it is also a story I would happily re-read.
So there you have it guys another review done and dusted. I hope you enjoyed this review and please feel free to comment any thoughts you may have.