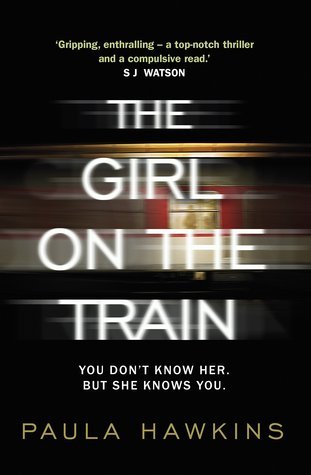 Title – The Girl On The Train
Author – Paula Hawkins
Publisher/Published – Random House/2015
Genre – Thriller
Summary from Goodreads –
Rachel catches the same commuter train every morning. She knows it will wait at the same signal each time, overlooking a row of back gardens. She's even started to feel like she knows the people who live in one of the houses. 'Jess and Jason', she calls them. Their life – as she sees it – is perfect. If only Rachel could be that happy.
And then she sees something shocking. It's only a minute until the train moves on, but it's enough.
Now everything's changed. Now Rachel has a chance to become a part of the lives she's only watched from afar.
Now they'll see; she's much more than just the girl on the train…
My Thoughts
3.5 stars out of 5 stars
Where to begin with this review. it took me ages to read and finish this book. I had quite of a love/hate relationship with it. At first when I started reading this book I was really enjoying the story. The story started really strong and I was engrossed in what happened next. I really was enjoying Rachel's point of view and Megan's was okay too but she started to get boring afer a while.
I read the first half really quickly but then I found the story started to dip and I lost interest really quickly so I put the book down for a while. One of the reasons I lost interest was the introduction of Anna's point of view. I really disliked Anna and got really fed up with her constant moaning and whining, she was always Tom this and Evie that and it got really tiresome.
After some encouragement fro a friend who finished the bok and ended up loving the ending I started to read it again. To my surprise I loved the last third of the story, it really picked up and I was compelled to keep readng and find out exactly what happened. Thats when the twists and turns came in. I had already chose a person I thought was guilty and I turned out to be right so it was slightly predicable. What I didn't expect was the back story behind the particular character and how a web of lies was spun.The ending was amazing and I certainly wasn't expecting what happened to happen.
Characters.
Rachel – I enjoyed reading Rachel's point of view and I think the story would have been fine judt coming from Rachel.
Megan – I enjoyed Megan's point of view but then it got a bit robotic in the middle and then picked up nearer the end again.
Anna – Where do I even start with Anna? She annoyed me so much and didn't add anything to the story until nearer the end. I got annoyed with they way she acted higher up than everybody and like she was better than everyone else. She did slightly redeem herself nearer the end but she is one of my least favourite character.
Tom – Tom was a predicable character and I didn't like him either. it got worse as the story went on and especially at the end.
Scott – I felt sorry for Scott at times and what he had to go through but nearer the end I started to dislike him.
There you go guys, another review for you. What did you think?
Lauren