Hey Folks, time for another post. Today I went to the library to take a couple of books back and also check out a few that I had reserved. However I came away with a few extra books as my library always has a mini sale going on. usually it is library books that have been withdrawn for one reason or the other but also people donate books for the sale. They are really cheap at 30 pence a book or five books for £1. So as usual I got five books. I will first show the books I checked out and then the ones I bought with a summary from goodreads.
Books I checked out:
Summary from Goodreads
Meggie loves books. So does her father, Mo, a bookbinder, although he has never read aloud to her since her mother mysteriously disappeared. They live quietly until the night a stranger knocks at their door. He has come with a warning that forces Mo to reveal an extraordinary secret – a storytelling secret that will change their lives for ever.
Summary from Goodreads
Although a year has passed, not a day goes by without Meggie thinking of the extraordinary events of Inkheart, and the story whose characters strode out of the pages, and changed her life for ever. But for Dustfinger, the fire-eater, torn from his world of words, the need to return has become desperate.
Link to Goodreads Summary
Summary from Goodreads
A mysterious portrait ignites an antiquarian bookseller's search through time and the works of Shakespeare for his lost love.
Hay-on-Wye, 1995. Peter Byerly isn't sure what drew him into this particular bookshop. Nine months earlier, the death of his beloved wife, Amanda, had left him shattered. The young antiquarian bookseller relocated from North Carolina to the English countryside, hoping to rediscover the joy he once took in collecting and restoring rare books. But upon opening an eighteenth-century study of Shakespeare forgeries, Peter is shocked when a portrait of Amanda tumbles out of its pages. Of course, it isn't really her. The watercolor is clearly Victorian. Yet the resemblance is uncanny, and Peter becomes obsessed with learning the picture's origins.
As he follows the trail back first to the Victorian era and then to Shakespeare's time, Peter communes with Amanda's spirit, learns the truth about his own past, and discovers a book that might definitively prove Shakespeare was, indeed, the author of all his plays.

Special thank you to Brooklyn over at Brooklyn the Bookworm for recommending this to me. I am really looking forward to reading this not only because it was recommended by a fellow blogger and friend but also because it isn't usually a book I would pick up.
Books that I bought in the Library Sale.
Summary from Goodreads
Helen Knightly has spent a lifetime trying to win the love of a mother who had none to spare. And as this electrifying novel opens, she steps over a boundary she never dreamt she would even approach. But while her act is almost unconscious, it also seems like the fulfilment of a lifetime's buried desire. Over the next twenty-four hours, her life rushes in at her as she confronts the choices that have brought her to this crossroads.
So when I saw this in the sale I had to get it. After reading and adoring The Lovely Bones by Alice Sebold I was eager to read more of her work so this was a must. The cover is beautiful I simply couldn't say no. Plus I got two more books by the author.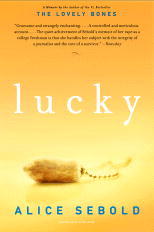 Summary from Goodreads
In a memoir hailed for its searing candor and wit, Alice Sebold reveals how her life was utterly transformed when, as an eighteen-year-old college freshman, she was brutally raped and beaten in a park near campus. What propels this chronicle of her recovery is Sebold's indomitable spirit – as she struggles for understanding ("After telling the hard facts to anyone, from lover to friend, I have changed in their eyes"); as her dazed family and friends sometimes bungle their efforts to provide comfort and support; and as, ultimately, she triumphs, managing through grit and coincidence to help secure her attacker's arrest and conviction. In a narrative by turns disturbing, thrilling, and inspiring, Alice Sebold illuminates the experience of trauma victims even as she imparts wisdom profoundly hard-won: "You save yourself or you remain unsaved."
I was so lucky to be able to pick another book by Alice Sebold. This time a memoir which I am really looking forward to reading.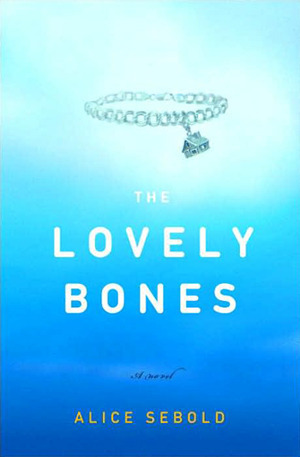 Summary from Goodreads
The details of the crime are laid out in the first few pages: from her vantage point in heaven, Susie Salmon describes how she was confronted by the murderer one December afternoon on her way home from school. Lured into an underground hiding place, she was raped and killed. But what the reader knows, her family does not. Anxiously, we keep vigil with Susie, aching for her grieving family, desperate for the killer to be found and punished.
This book was what started it my love for Alice Sebold's writing. I already have a copy of this but the cover is the movie tie in which I adore, but when I saw this I had to get it to go with the others. I completely adore this book. It is so heartbreakingly beautiful and is a book that will stay with me. I was so lucky to get the three books, so because I had three I decided to pick a couple more to take it to the 5, I will show you them now.
Summary from Goodreads
Lyra Belacqua and her animal daemon live half-wild and carefree among scholars of Jordan College, Oxford. The destiny that awaits her will take her to the frozen lands of the Arctic, where witch-clans reign and ice-bears fight. Her extraordinary journey will have immeasurable consequences far beyond her own world…
I was beyond excited to see this in the shelf. I watched the film and really enjoyed it but once again I never got around to reading the book. So naturally I picked it up to add to my collection.
Summary from Goodreads
You just can't put a good pirate down! Join Jack Sparrow and his crew as they battle the supernatural warriors led by the notorious Davy Jones. In this second fantastic Pirates of the Caribbean adventure, Jack, Will and Elizabeth must possess what lies within Davy's secret chest if they are to save Jack's soul. Featuring horrific sea beasts, cannibal islands and amazing full-colour pictures, this book is every bit as exciting and frightening as the movie itself!
I LOVE LOVE LOVE Pirates of the Caribbean, all of them. Johnny Depp as Jack Sparrow is just a match made in heaven. So when I saw this little book I had to pick it up, I don't have any of the others but I will be looking out for them from now on.
There you have it, an extremely long post. I hope you enjoyed this post and feel free to comment if you have read and liked any of these books. No spoilers please.