Title – The Bad Beginning
Author – Lemony Snicket
Publisher/Published – Harper Collins / March 2009
Genre – Fiction, Fantasy, Young Adult, Middle Grade, Children's
Summary from Goodreads
Dear Reader,
I'm sorry to say that the book you are holding in your hands is extremely unpleasant. It tells an unhappy tale about three very unlucky children. Even though they are charming and clever, the Baudelaire siblings lead lives filled with misery and woe. From the very first page of this book when the children are at the beach and receive terrible news, continuing on through the entire story, disaster lurks at their heels. One might say they are magnets for misfortune.
In this short book alone, the three youngsters encounter a greedy and repulsive villain, itchy clothing, a disastrous fire, a plot to steal their fortune, and cold porridge for breakfast.
It is my sad duty to write down these unpleasant tales, but there is nothing stopping you from putting this book down at once and reading something happy, if you prefer that sort of thing.
With all due respect,
Lemony Snicket
My Thoughts
5 out of 5 stars
I love Lemony Snicket's writing style. I find it very unique and interesting. The first book in the series starts of the story of the Baudelaire children. They receive some sad news, I won't say what which leads them on a very unfortunate path. This is where they meet Count Olaf. Count Olaf is a well written character because you are supposed to dislike him. He is evil, quirky and at times hilarious with his failures. I enjoy the Baudelaire children and there personalities. Violet the oldest is an inventor and you know when she is thinking and inventing because she ties her hair back with a ribbon. Klaus is a character I most connect with, he loves to read and because of this he gains a lot of knowledge by reading various books about different subjects. Sunny is the baby of the family and enjoys biting things. I love the bond between the children and how they are always there for each other through all the hard things they have to go through. This was a great read and also a fast one, it was quite short at 188 pages and I read it in one sitting.
Favourite Quotes
"Sometimes, just saying that you hate something, and having someone agree with you, can make you feel better about a terrible situation."
"There are many, many types of books in the world, which makes good sense, because there are many, many types of people, and everybody wants to read something different."
"everything happens for a reason."
"Your initial opinion on just about anything may change over time."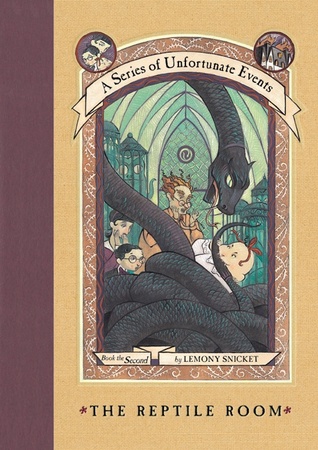 Title – The Reptile Room
Author – Lemony Snicket
Publisher/Published – Harper Collins/October 2009
Genre – Fiction, Fantasy, Children's, Young Adult, Middle Grade
Summary from Goodreads
Dear Reader,
If you have picked up this book with the hope of finding a simple and cheery tale, I'm afraid you have picked up the wrong book altogether. The story may seem cheery at first, when the Baudelaire children spend time in the company of some interesting reptiles and a giddy uncle, but don't be fooled. If you know anything at all about the unlucky Baudelaire children, you already know that even pleasant events lead down the same road to misery.
In fact, within the pages you now hold in your hands, the three siblings endure a car accident, a terrible odor, a deadly serpent, a long knife, a large brass reading lamp, and the appearance of a person they'd hoped never to see again.
I am bound to record these tragic events, but you are free to put this book back on the shelf and seek something lighter.
With all due respect,
Lemony Snicket
My thoughts
5 out of 5 stars
Another unique book from Lemony Snicket. This was another great, fast read. I feel sorry for the Baudelaire's because just when you think they are going to have a stroke of good luck it is taken away. A new character that joins us if Montgomery Montgomery otherwise know as Uncle Monty. He is a fun loving character who treats the children very well. All seems well until Uncle Monty's new assistant arrives and the children finds themselves back on the path to unfortune. I'm not going into too much detail because I don't want to spoil the story for everyone. These stories can be sad but you become connected with the children and urge them to defeat the evil the may face. I hope the children will find happiness.
Favourite Quotes.
"Right, good temporarily defeated, is stronger than evil triumphant."
"…in life it is often the tiny details that end up being the most important."
"Sometimes, even in the most unfortunate of lives, there will occur a moment or two of good fortune."
"Never, under any circumstances, let the Virginian wolfsnake near a typewriter."
"It is remarkable that different people will have different thoughts when they look at the same thing."